Practical Takeaways that Inspire Excellence

Accountability

Employee Engagement

Professionalism

Leadership Skills

Generational Mix

We help our clients improve accountability & performance of their workforce, to strengthen their business.

Don't Fall Victim to The Most Common Blind Spot in Business

• Why are so many employees  disengaged? 

• What will make your employees become more productive?

• Which work & management styles are most suited to your workplace?

This infographic will show you the key to utilizing your human resources for a robust and more profitable organization. 

Don't Take Our Word for It…

…take our clients' word. We have worked for over 20 years to change companies, careers, and lives.

Read more testimonials.

1 Habit to Improve Career Success & Professional Presence

Dear Suzanne, In the last couple weeks I have been conducting interviews with candidates. Most of them were conducted over dinner. I was aghast at their table manners! Are basic manners getting forgotten? I think people are using their observations as an indicator of work compatibility. How prevalent is this problem, Suzanne?

Find out Suzanne's reply.

Google, Zappos, and the Importance of Cultural Fit

These days we have many examples of unique corporate culture. Take Google for instance. We can all imagine working on a campus that provides child care, free gourmet food and unlimited lattes. Those are bells and whistles that are reflective of culture. But what is culture truly based on? Learn about cultural fit here. 

Contrary to popular belief, money is the third or fourth reason that high performers quit their job.

According to a recent Gallup poll, over half of employees (60%) seekgreater clarity
of organizational goals, more mentoring, better communication, improved workplace relationships and regular, specific feedback. We invite you to learn the fundamentals of these three metrics in our latest infographic. 

Why Is Training so Important?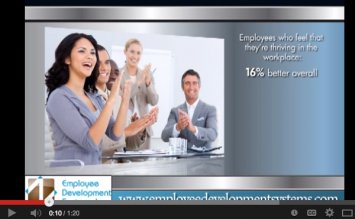 Why is a healthy training program important?